by Scott McClallen
As two train derailments – one in Ohio and one in Michigan – remain national news, Gov. Gretchen Whitmer and Attorney General Dana Nessel continue their crusade to shut down the Line 5 pipeline.
If successful in their efforts, moving the petroleum products would transition from pipelines to tanker truck and rail transportation, according to experts interviewed by The Center Square. This transition would likely drive up prices for consumers, increase carbon emissions, and prove less safe, they say.
Line 5 has been pumping about 540,000 gallons of hydrocarbons daily across the lakebed of Lake Michigan since 1953. Environmental activists worry the pipeline could leak into Lake Michigan and damage the environment. Canadian company Enbridge, which owns and operates Line 5, has planned a $500 million project to remove the current pipeline to a tunnel constructed 100 feet below the surface of the lake bed. Enbridge's Great Lakes Tunnel Project was approved during the administration of former Republican Gov. Rick Snyder.
Hillsdale College Economics Professor Gary Wolfram told The Center Square that if the current governor and attorney general are successful in shutting down Line 5, prices of fuel and petroleum derivatives would skyrocket.
Wolfram said shutting down the pipeline won't necessarily stop oil transportation – it'll shift to more costly and less efficient methods, like by rail or truck, that could lead to higher emission output relative to using the Line 5 pipeline.
"It turns out that it's a lot more expensive, and the probability of an accident is significantly higher with rail and trucks," Wolfram said in a phone interview.
Wolfram suggested looking at the expected value: The probability of a pipeline leak or train derailment, times the cost of it happening – to determine whether oil should be moved via train, truck, or pipeline.
"It would take a lot of train cars to transport as much oil in a day as a pipeline," Wolfram said. "What you have is, essentially, a tradeoff. There is some probability that there would be a problem with the pipeline – it might spring a leak."
Enbridge spokesman Ryan Duffy told The Center Square that pipelines are safer than the alternatives.
"Compared to the alternatives of truck, rail, or lake-going barges, pipelines are the safest mode of transport for moving fuel," Duffy wrote in an email. "Pipelines have lower emissions and are more reliable and affordable."
Duffy said that Line 5 has never had an incident in the Straits and building the Great Lakes Tunnel has the support of more than 70 percent of Michiganders.
University of Michigan-Flint economics professor Chris Douglas said it would take 2,150 trucks crossing the Mackinac Bridge daily to replace the pipeline's volume.
"That's 2,150 trucks worth of diesel fuel being burned, damage to the roads, carbon dioxide being emitted into the atmosphere, plus additional traffic congestion on the roads," Douglas said in a phone interview.
Douglas estimated it would cost $254 million annually to replace Line 5 with trucks, or about $696,600 each day, he said.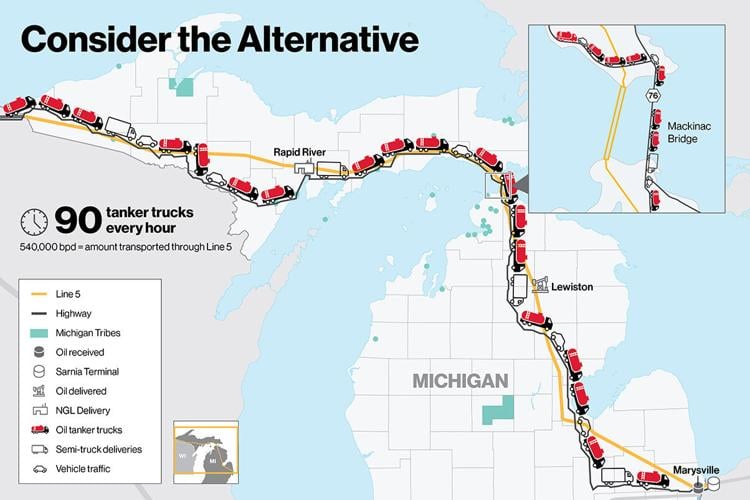 He roughly estimated that 10 trains per day could replace Line 5's volume, but trains can't cross the Mackinac bridge, so they would have to wind through Wisconsin, Illinois, and then back up through the Lower Peninsula.
"There really is no substitute for Line 5," Douglas said.
U.S. Secretary of Transportation Pete Buttigieg said about 1,000 train derailments happen annually, according to a clip posted by Yahoo News.
The East Palestine derailment wasn't carrying oil, and the chemicals it was carrying isn't transported via pipeline, Isaac Orr, a policy fellow at Center of the American Experiment, told The Center Square.
"The main problem with East Palestine was the chemicals that were also being transported by train," Orr said in a phone interview. "As a rule, it's always going to be safer and lower cost to transport things like oil via pipeline instead of rail or truck. To the extent that we can maximize the amount of product that is shipped via pipeline, that's always going to be better for consumers, the environment, and people in general."
Last week, Michigan asked taxpayers to give $15 million for the Norfolk Southern rail improvements – the company that operates the train that derailed in East Palestine – as part of the $750 million in site prep spending for the Ford BlueOval Lightning EV plant in Marshall.
– – –
Scott McClallen is a staff writer covering Michigan and Minnesota for The Center Square. A graduate of Hillsdale College, his work has appeared on Forbes.com and FEE.org.
Photo "Gretchen Whitmer" by City of Detroit. Background Photo "Enbridge Line 5" by Peter K Burian. CC BY-SA 4.0.